Why Aren't Smartphones Making Us More Productive?
See on Scoop.it – Designing design thinking driven operations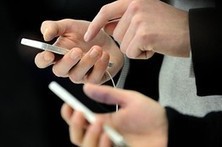 An estimated 130 million smartphones are roaming U.S. streets, but economists haven't been able to measure how they improve worker productivity. (With 130 million smartphones in U.S., economists have yet to detect an increase in our productivity.
See on online.wsj.com
Photocredit: -40 by ~eZhika on deviantART
Related articles
Posted on 2013/05/01, in Recovery and the way out of the crisis, recession and depression, Service design, service management and tagged Android, Business, Business and Economy, Global Positioning System, Mobile phone, Smartphone, Ubuntu, United States. Bookmark the permalink. 1 Comment.